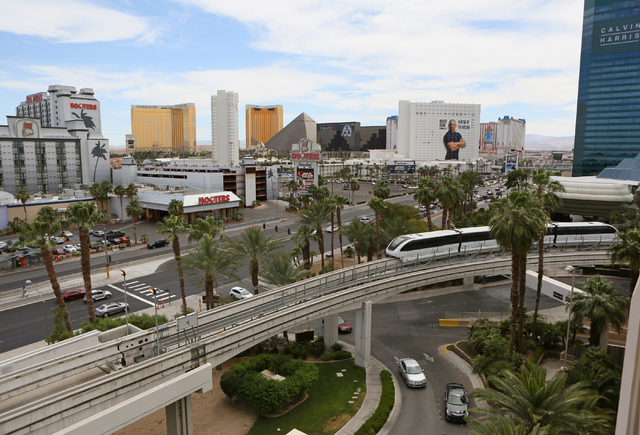 The RTC will consider a proposal to extend the monorail
The Las Vegas monorail route to fund a mile-long extension could work with help from the Southern Nevada Regional Transportation Commission.
Without discussion, the RTC board agreed on Thursday to consider whether it makes sense to use the RTC's credit rating to secure low-interest bonds and to analyze the financial viability of the bond. from the existing MGM Grand terminus of the monorail at Mandalay Bay.
A study by commission staff is expected to be presented to the RTC board in August, Monorail spokeswoman Ingrid Reisman said. The Las Vegas Monorail Co. is seeking permission to use the RTC's credit rating to secure bonds that would be sold by the company to pay for the monorail extension to Mandalay Bay.
"The reason we're looking at this is that we're in a very healthy position as a business, and expanding the system to Mandalay Bay improves that position for the business," Reisman said. "But also, it improves mobility and reduces congestion in the station corridor."
Las Vegas Monorail Co. President and CEO Curtis Myles told members of the International Monorail Association last year that the planned expansion would cost about $100 million, including a new station and two new trains. Reisman said the price could change when the designs for the project are complete.
Reisman said the private nonprofit agency would face higher interest rates if it sold bonds on its own rather than going through the RTC, which has a better credit rating. Investors also note that the Las Vegas Monorail emerged from bankruptcy restructuring in 2012, leaving the company with a 98% debt reduction to $13 million and retaining its nonprofit status. .
"The RTC needs to have a clear understanding of what the monorail intends to do," said Greg Gilbert, an attorney for the RTC. "No rock will be left unturned if this progresses."
Las Vegas Monorail ridership and revenue have increased in recent years. More than 5.1 million passengers — mostly tourists and convention-goers — boarded the 3.9-mile elevated system last year, up from 4.5 million passengers reported in 2014, Monorail officials said. . That's a 16 percent increase.
The agency's annual revenue grew by more than $2 million over the same period to $22 million.
Last month, Clark County commissioners allowed the Las Vegas Monorail to draw investment income from the $6 million "doomsday" account that would pay for its demise, should the system fail. Earnings on the account are approximately $1.9 million, which will be used to secure a guaranteed design and maximum price on the extension.
Contact Art Marroquin at [email protected] or 702-383-0336. To find @AMarroquin_LV on Twitter.
An earlier version of this story incorrectly reported the monorail's request to the Southern Nevada Regional Transportation Commission. He's not looking for a line of credit.