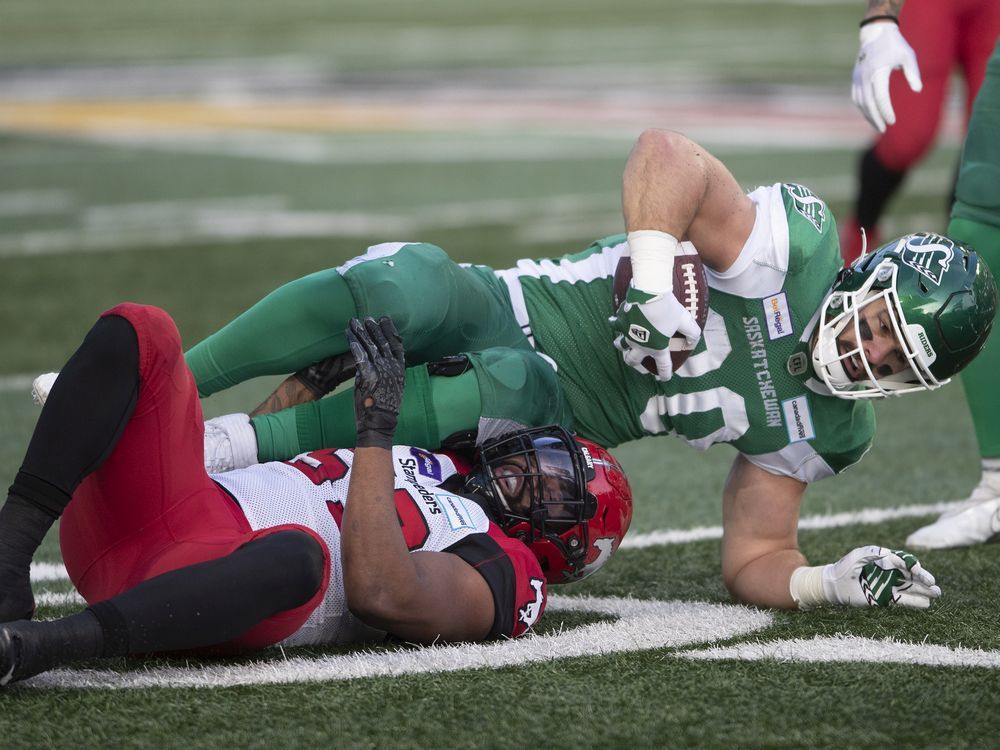 Roughriders sign Sankey and Moncrief to kick off free agency
The Saskatchewan Roughriders signed linebackers Darnell Sankey and Derrick Moncrief on Tuesday – the opening day of free agency.
Content of the article
Darnell Sankey, who as a member of the Calgary Stampeders led the CFL in defensive tackles in 2021, has signed with the Saskatchewan Roughriders.
Advertising
This ad has not loaded yet, but your article continues below.
Content of the article
Ditto veteran linebacker Derrick Moncrief, who was originally with the Greens and Whites from 2017-19. He was a CFL star last season.
The Riders announced the signing of Sankey 90 minutes after the CFL's free agent period officially opened on Tuesday. Financial terms of the deal were not disclosed, but Sankey signed a one-year contract.
In 2021, Sankey led the CFL with 97 defensive tackles in his first CFL season. He was also named a West Division All-Star.
Moncrief's best season was 2019, when he recorded 69 defensive tackles and four interceptions as a strong linebacker. He then headed to the NFL for stints with the Las Vegas Raiders and Los Angeles Rams.
After signing with the Elks on Sept. 7, Moncrief recorded 23 defensive tackles and four sacks in nine games. He was also named the Elks' Most Outstanding Defensive Player.
The signings could create a linebacker lockout for the Riders. Center linebacker Larry Dean and weakside linebacker Micah Teitz have already re-signed with the Greens and Whites.
Dean missed the 2021 season while recovering from a torn Achilles tendon he suffered during pre-training camp training. In 2017 and 2018, Dean was an East Division star with the Hamilton Tiger-Cats. in 2019, he earned Western Division All-Star honors with Edmonton.
Last season, Teitz was named the Riders' Most Outstanding Canadian.
St. John re-signs
Offensive lineman Josiah St. John has signed a contract extension with the Riders.
Advertising
This ad has not loaded yet, but your article continues below.
Content of the article
St. John, who was a free agent, dressed for 14 regular season games in 2021 with one start at guard. He also dressed for the Riders' two playoff games.
St. John was the Riders' first overall pick in the 2016 CFL Draft in Oklahoma. He dressed for 22 games in three seasons. In 2019, he had stints with the Toronto Argonauts, BC Lions before concluding the season with the Edmonton Elks.
Veterans move on
Defensive backs Ed Gainey and Loucheiz Purifoy and running back William Powell all changed addresses as free agents.
Gainey signed a one-year contract with the Elks. Purifoy signed with the BC Lions. Powell joined the Ottawa Redblacks.
Gainey, a member of the Riders from 2016-2021, was a CFL star in 2017 and 2018. In 2021, Gainey had 37 defensive tackles and three interceptions while dressing for 12 of 14 regular season games. He also had three picks in the Riders' two playoff games.
The signing reunites Gainey with Chris Jones, whom Gainey played with from 2016 to 2018. Jones was the Riders' vice president of football operations, general manager and head coach of the Riders during that time. Jones is currently the general manager and head coach of the Elks.
Purifoy, 29, spent three seasons with the Riders as a defensive back, safety and linebacker. He dressed for 40 regular season games with the Green and White, recording 106 defensive tackles, eight interceptions and one forced fumble. He was named the Roughriders Most Outstanding Defensive Player last season.
Advertising
This ad has not loaded yet, but your article continues below.
Content of the article
Powell was with Ottawa for three seasons (2015-18) before signing with the Riders as a free agent in 2019. In 2021, he had 168 carries for 733 yards and three rushing touchdowns.
Runners' Free Agents
The following are the 26 runners who filed for free agency as of 11 a.m. Tuesday. The asterisk indicates an American.
Strategist:Isaac Harker*.
Running backs:William Powell*; Alexandre Dupuis.
Recipient: Jordan Williams-Lambert*.
Offensive linemen: Brett Boyko; Takoby Cofield*; Cameron Jefferson*; Josiah St. John.
Defensive linemen: Freddie Bishop III*; Makana Henry; Micah Johnson*; Jordan Reaves; Kevin Francois.
linebackers: Jay Dearborn, Jordan Herdman-Reed; Justin Herdman-Reed; Deon Lacey*; Nakas Onyeka;
Defensive backs: Elie Bouka; Christian Campbell*; Ed Gainey*; AJ Hendy*; Tony Lippett*; LJ McCray*; Loucheiz Purifoy*.
Special teams: Punter Jon Ryan.
News seems to be flying towards us faster all the time. From COVID-19 updates to politics and crime and everything in between, it can be hard to keep up. With that in mind, the Regina Leader-Post has created an Afternoon Headlines newsletter that can be delivered to your inbox daily to ensure you're up to date with the day's most vital news. Click here to subscribe.