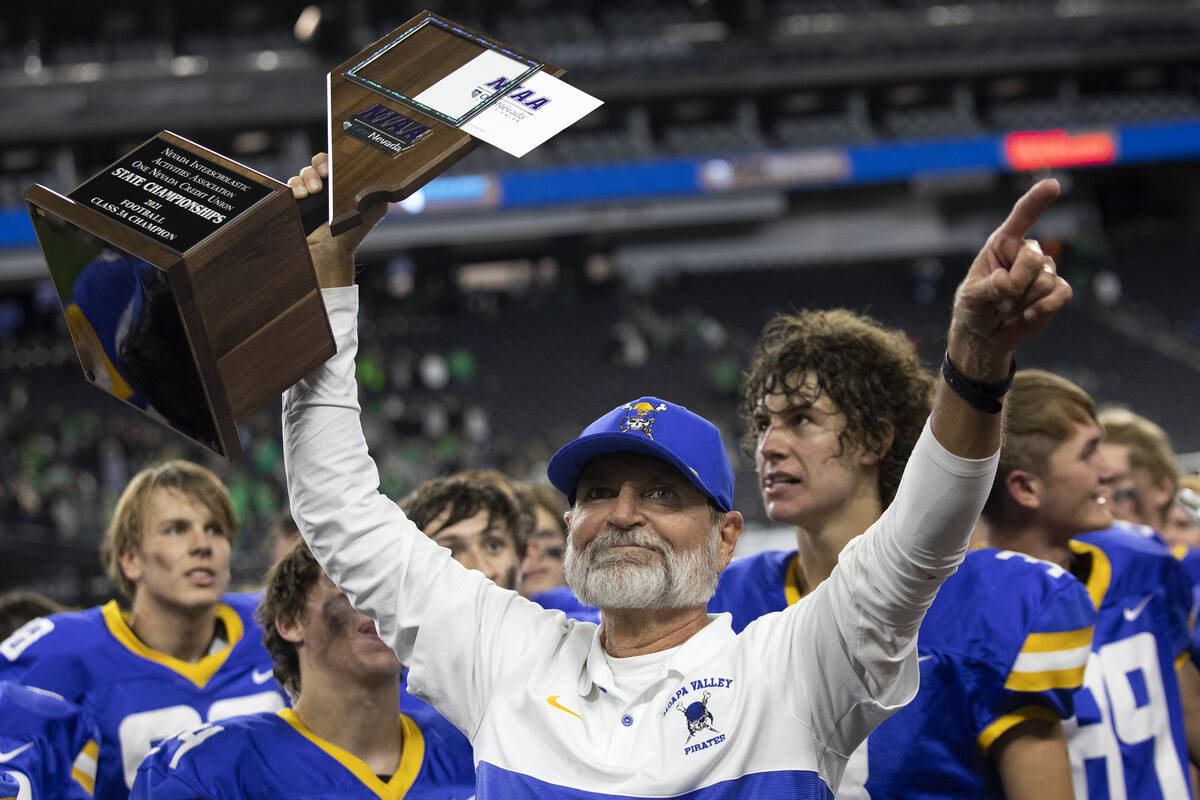 Nevada Preps: Moapa Valley beats Virgin Valley for 3A bye
Winning a championship title is sweet enough on its own.
Doing it while beating your best rival makes it even more special.
Friday night in a Class 3A Desert League showdown, Moapa Valley traveled to Virgin Valley and won the Hammer Game 19-6 to claim the league's top seed and earn a bye to the first round of the playoffs.
The Pirates (10-0) were rolling going into their game against Virgin Valley, having beaten their previous four opponents by a combined 189-23.
But it's not like Moapa Valley hasn't been tested this season. The Pirates narrowly beat Boulder City 26-22 and Pahrump Valley 7-6, and were challenged by SLAM Nevada before winning 29-13.
"We kind of missed some of those close games, and we played a lot of them early in the year," Moapa Valley coach Brent Lewis said. "It gave us a lot of confidence that we could go beyond and beat Virgin on their turf."
Winning isn't exactly foreign to Moapa Valley, which, rallying to beat Virgin Valley 27-14 last season at Allegiant Stadium, won the school's 17th state title.
Gone, however, were 23 seniors from that squad, and 18 of the 22 starters had to be substituted.
"There were a lot of growing pains that we had to go through early on, but I thought our kids were capable from the start," Lewis said.
Familiar faces
Bishop Gorman's trainer, Brent Browner, didn't expect to face Faith Lutheran in the first round of the Class 5A playoffs.
But Faith Lutheran was beaten 34-31 by Green Valley on Friday, dropping the Crusaders to the fourth seed in the Mountain League and setting up Thursday's game. Not to mention allowing Green Valley – at least for now – to avoid the Gaels.
"We didn't expect this," said Browner, who sounded optimistic about the challenge ahead and a little nostalgic as well.
Faith Lutheran has a special place in Browner's heart. He coached there more than a decade ago and spoke enthusiastically about the program, noting that there was a real push for Faith Lutheran to play at the highest level.
"When I was at Faith, we wanted to play Gorman every year," Browner said. "We wanted competition.
Breathtaking climb
SLAM Nevada, a charter school that focuses on sports management and is backed by pop star Pitbull, only started in 2015.
The Bulls' first season playing any type of high school football was in 2018 when they went 2-0 as an independent. In their first full season, in 2019, they went 3-7.
Then, of course, COVID hit.
But after Friday's 39-7 win over Eldorado, the Bulls have their first league title.
Playoff odds
There is no (legal) betting on high school games, so the following odds for winning the respective state championships are purely for recreational purposes. And more than a scientific breakdown, these probabilities are more about educated guesses.
Class 5A
Gorman 1-100
Liberty 25-1
Desert Pines 50-1
Gazebo View 80-1
Class 4A
Silverado 1-50
Shadow Ridge 20-1
Vegas 30-1
Coronado 35-1
Basic 40-1
Class 3A
Moapa Valley 4-1
SLAM Nevada 8-1
Virgin Valley 12-1
Boulderville 20-1
Contact journalist Mark Anderson at [email protected] Follow @markanderson65 on Twitter.