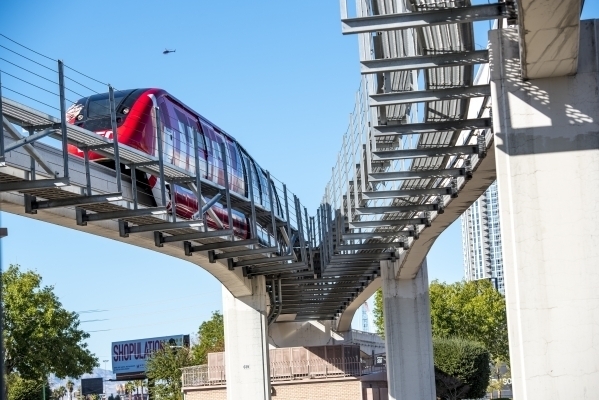 Monorail to use interest money to launch expansion at Mandalay Bay
The Las Vegas Monorail got a little closer to become a mile longer.
Clark County commissioners voted on Tuesday to allow the Las Vegas Monorail Company to draw investment income from the $6 million account set up to pay for its demise, should it fail.
The company plans to use the money to extend its line to Mandalay Bay.
Revenue on the Monorail account is about $1.9 million, Monorail spokeswoman Ingrid Reisman said.
That money will be used to secure a guaranteed maximum design and price for the expansion, Reisman said. Once the company has a cost in place, it can then turn to the bond market for funding, she said.
"We would use those funds in a very measured way, in a very deliberate way," Curtis Myles, president and CEO of the Las Vegas Monorail, told the commission April 5. Myles said the expansion had been in the works for three years and the Monorail Co. had done a thorough ridership analysis.
In 2015, Myles told members of the International Monorail Association that expanding the existing MGM Grand terminus at Mandalay Bay would cost around $100 million. He said the project would mean a new station and two new trains.
Reisman said the company is focusing on a Mandalay expansion because it's confident the ridership will support the move. The change would mean going from connecting passengers at 26,000 hotel rooms to 35,000, she said.
The doomsday tale dates back to a 2000 resolution signed by county commissioners. The updated resolution allows Monorail Co. to earn only investment income from the account and requires the company to repay the account at a 4% interest rate.
The Las Vegas Monorail Company is a non-profit organization. The 3.9-mile elevated system has been active since 2004. The monorail is rebounding from the Great Recession. Tough economic times meant two years in US bankruptcy court. The legal proceedings, which ended in 2012, left the company with a 98% debt reduction to $13 million and maintained its nonprofit status.
Myles told the commission at its April 5 meeting that the Monorail Co. was aware the transit system had had "ups and downs" and said revenue was up and the company was starting to gain traction and demonstrate its value to the resort community.
As for an expansion of McCarran International Airport, which is the question everyone asks every time the monorail pops up, Reisman said that hasn't been ruled out but isn't an immediate priority.
Contact Bethany Barnes at [email protected] or 702-477-3861. Find her on Twitter: @betsbarnes