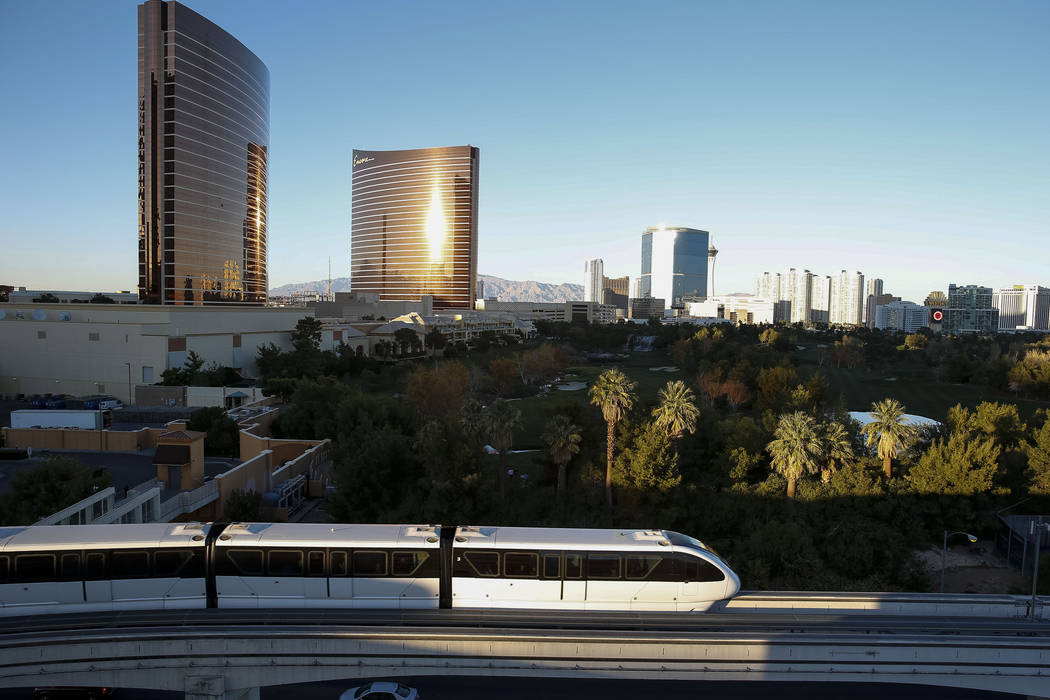 Monorail station planned for MSG Sphere arena in Las Vegas
The MSG Sphere at The Venetian Arena project is set to house one of two planned new monorail stations.
Plans submitted to Clark County call for an 11,119 square foot station, with platforms on the north and south sides of the existing Las Vegas Monorail Co. guideway.
The station will be 60 feet tall and will be located approximately 200 feet from Sands Avenue approximately 200 feet east of Koval Lane at the northwest corner of the nearly 19-acre site planned for the arena. of 18,000 seats.
The MSG Sphere station will connect to a previously approved 1,100 foot long pedestrian bridge between the Sands Convention Center and the MSG Sphere. The developers of the MSG Sphere – Las Vegas Sands Corp. and Madison Square Garden Co. – launched the project in September and expect to complete construction in fiscal year 2021.
Plans call for the station to be constructed of painted steel, metal panels, metal railings, glass doors and a standing seam metal roof. Concrete columns will be constructed in the median and on the south side of Sands Avenue to support the station.
Construction of the MSG Sphere station is expected to take about nine months, according to Ingrid Reisman, spokeswoman for The Monorail Co. Reisman did not provide a specific timeline for the project and declined to comment on the price of the station.
A station and extension planned to run from the MGM Grand to Mandalay Bay aims to ferry fans to and from events at the $1.8 billion, 65,000-seat Las Vegas stadium, which is under construction just across the street. side of Interstate 15. The project's projected cost, including the station and construction of new tracks, is $23.6 million, according to building permits submitted to the county earlier this year.
Construction of the station and guideway extension is expected to take 18 months, according to plans.
With the addition of MSG Sphere and Mandalay Bay monorail stations, the system would be 8 km long, with nine stops, directly connected to 42,000 hotel rooms, three event arenas, hundreds of restaurants, retail , gaming and entertainment as well as both the Sands Expo and Convention Center, the Las Vegas Convention Center and the Mandalay Bay Convention Center – three of the 10 largest convention centers by size in the United States.
The two planned stations are to be built simultaneously, Reisman said. Land use rights for the station on Sands Avenue must first be secured, which could happen as early as the county commission meeting on Dec. 5.
The Review-Journal is owned by the family of Las Vegas Sands Corp. Chairman and CEO Sheldon Adelson.
Contact Mick Akers at [email protected] or 702-387-2920. To follow @mickakers on Twitter.