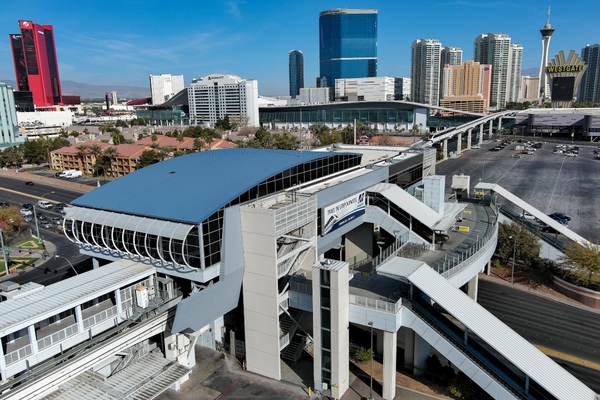 Las Vegas Monorail Station Offers Advanced Passenger Connectivity
The Las Vegas Convention and Visitors Authority (LVCVA), which owns and operates the Las Vegas Monorail, is partnering with connectivity provider Boingo to bring next-generation wireless services to the station.
Boingo is also launching an Innovation Center in Las Vegas to test how 5G, Wi-Fi 6 and IoT technologies can improve smart cities, entertainment, hospitality, gaming, commercial real estate, transportation, sports and entertainment. other industries.
Advanced Connectivity
Boingo provides cellular distributed antenna systems (DAS), Wi-Fi and private networks. The new network will allow passengers at the Convention Center station to connect to digital apps and services, including contactless ticketing, mobile entry, cashless payment, mobile boarding passes and badges digital conferencing, as well as social media, streaming services and email. The cover is expected to go live later this year.
The 3.9-mile elevated Las Vegas Monorail is all-electric and offers convenient connections along the Las Vegas Strip, directly connecting passengers to 25,000 hotel rooms, restaurants, shopping, sports and entertainment options.
"Las Vegas is home to a thriving tech scene that provides an incredible testing ground to pioneer the future"
With trains arriving every four to eight minutes, passengers can reach the Las Vegas Convention Center (LVCC) from any part of the line in less than 10 minutes.
The 4.6 million square foot LVCC is one of the nation's busiest convention centers, combining business with more than 150,000 hotel rooms.